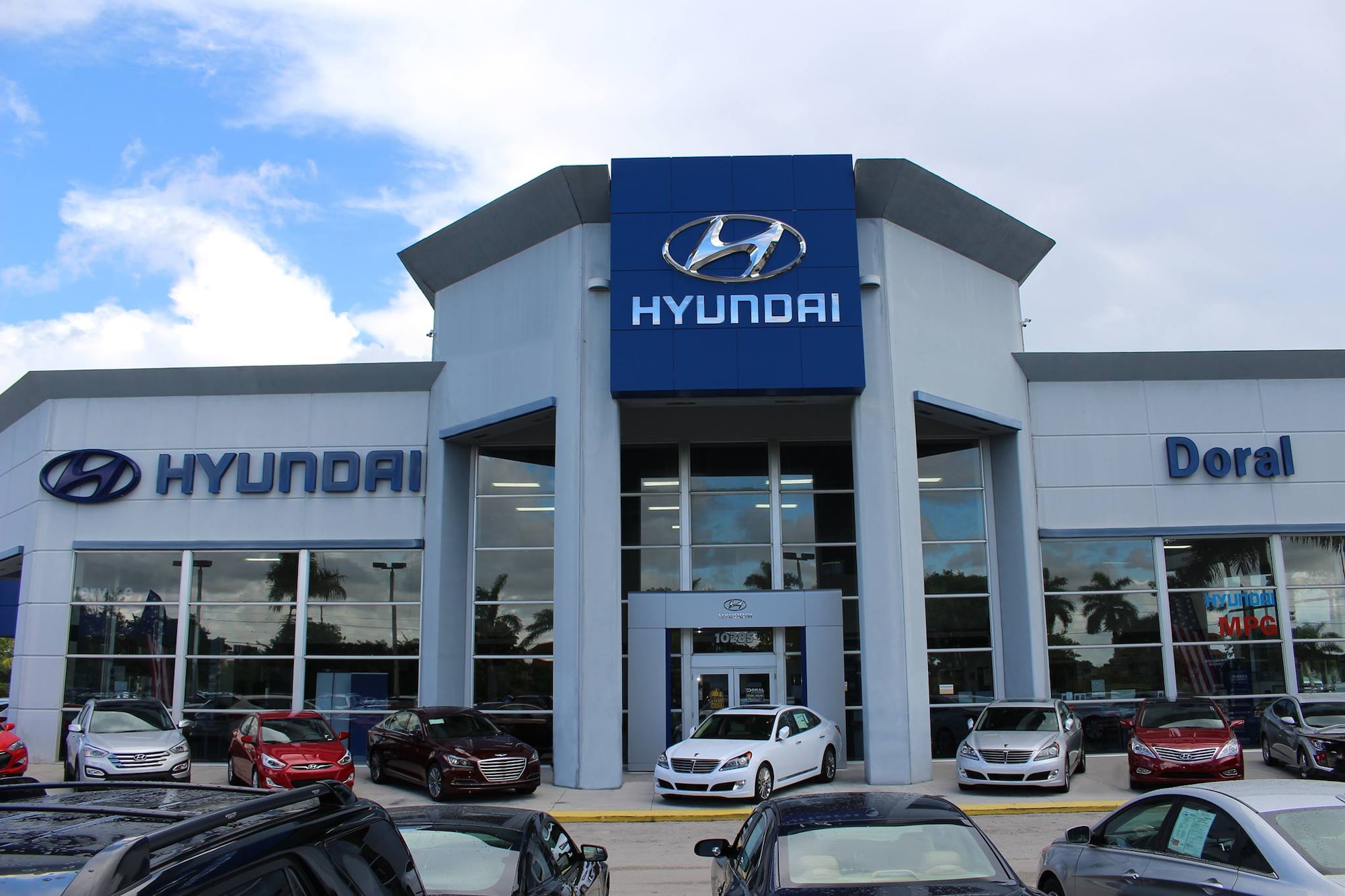 We have 1000's of Vehicles to Choose From!
Get in Touch
Contact Our Sales Department

:

(305)591-5418
Monday

9:00am - 9:00pm

Tuesday

9:00am - 9:00pm

Wednesday

9:00am - 9:00pm

Thursday

9:00am - 9:00pm

Friday

9:00am - 9:00pm

Saturday

9:00am - 8:00pm

Sunday

11:00am - 7:00pm
  New Cars for Sale Near Me
 What makes car shopping so difficult for so many of us? There are a variety of factors that   come into play when you are car shopping. Factors ranging from finances, vehicle brands, and   cost all play a massive role in making car shopping more difficult. It can be easy to fall into a   hole where you feel like finding your next car is hopeless. Sometimes, it takes time to find the   cars you need and other times, the car you want does not exist yet. With so many cars on the   market, you can imagine that finding your next one would be simple. Do not struggle with   finding your next car, truck, or SUV for sale. We are ready for you today. Visit Doral Hyundai for your next vehicle for sale. Our Miami Hyundai location is prepared for you. Without the right car   location, you can struggle with a variety of car dealers to get the cars you want. Find yourself   one of our new cars for sale in Miami. We want to ease your car shopping experience today.   Visit Doral Hyundai for your next new car for sale. It is nice to drive the latest of the available   vehicles. Let your next car be a new car for sale from our Miami Hyundai location. Doral   Hyundai gives you the options you want for your new cars for sale. Visit us today and get the   new cars you have been searching for. Cars like the Hyundai Sonata and Hyundai Elantra are   ready for you today!
  Reliable Finance Options Near You
  Can you imagine yourself finding your next car? What happens if you find the perfect vehicle   but the dealership you go to does not offer financing? What could you do? Do not let the   financing options for your car rain on your parade. Let Hyundai financial services help you with   financing your next vehicle. With Hyundai financial services, you can get the special financing   you need when you are searching for your next vehicle. At Doral Hyundai, we are your car   dealership that makes Hyundai lease offers that are easy to get. From our Hyundai financial   services to our Hyundai lease deals, we want you to have what you need to get your next   vehicle. Do not let yourself struggle with finding a car sales location that gives you selection   without financing options. Visit a car dealer with the lease deals near you. Our Hyundai lease   deals Florida are ready for you today. Lease a car Miami from Doral Hyundai. We make the   process ease. First, find the car you want. Next, talk to our financial team. Third, take home the car you want. In three easy steps, we want to simplify car shopping for you today. We lease a   variety of our vehicles. A Hyundai SUV lease for used cars in Miami are ready for you. Our   Miami Hyundai location is ready for you today. Stop by for the Hyundai lease deals Florida that   make getting the vehicle you want simple. Doral Hyundai is the place for you for your leasing   and financing options.
Find a Used Car for Sale Today!
Form a Hyundai dealership, Miami to you used cars in Miami are ready to please. Few Miami Hyundai dealers exist near you, giving you the options you want for your next vehicle. Do not let yourself be bogged down by the car options of many used car dealerships in South, Florida. Get yourself a used Hyundai for sale near me today! Our certified used cars Miami are the options for you as you search for your next vehicle. For many of us, we do not need to have new cars to get us where we need to go. You have plenty more options for used cars than you do for new cars. Often, when you are car shopping, you can find cars that have more modern safety features at a fraction of the cost. Let used cars in Miami give you everything you need for your next vehicle. Come to our Hyundai dealerships, Miami today. With our selection of used cars for sale, we are ready to make car shopping simple for you. No more going all over to find a car you might consider. We are your Miami Hyundai dealers with the car brand you trust. Get a used Hyundai for sale near me from our used car dealerships South Florida. Visit our used and certified pre-owned cars Miami for sale today!
Hyundai Service and Parts of Miami Florida
Once you have a car, you can feel like you are the ruler of the road. You gain much freedom when you have a vehicle that can get you to and from places. For some of us, being without a car was once a regular occurrence. But, when you finally get a vehicle, it is essential to maintain it. Let yourself maintain your next car with quality service. From an oil change to a parts replacement, you can keep your car in peak performance for decades. It takes good TLC to make your car work with you. If you are looking for Hyundai service Miami Lakes, then Doral Hyundai is the place to be. We have a Hyundai service department that makes getting your Hyundai worked on a breeze for you. Let yourself enjoy the quality work of our Hyundai mechanics. Each is trained to work with Hyundai cars and SUVs. Give your car what is necessary to keep it in running order for years to come. We are ready for you as you choose the service you need. From valuable Doral Hyundai service to our parts department, we want to ease your necessary parts and service process. Get our Hyundai parts Miami, Florida, to help you on your car search. We are ready to please as you look for the reliable parts and service for your car for sale. Let our selection give you what you need when you are looking for the parts you want. From tires to OEM parts, we have you covered. Visit Doral Hyundai for the parts and service you need. Visit Doral Hyundai today.